Meijo University, Nagoya Dome-Mae Campus, North Building
Please note that the conference is held at the relatively new Nagoya Dome-Mae Campus (scroll down on the linked page) (ナゴヤドーム前キャンパス) not at the Tenpaku Campus (Nagoya Dome-mae means 'in front of Nagoya Dome Stadium'). The nearest station is Nagoya Dome-mae Yada (M13) on the Meijo Line. Thus, if you're using Google Maps you are strongly advised to bookmark this Google Maps link in advance as searches for Meijo University are likely to turn up the wrong campus. We recommend that you stay in the Sakae area.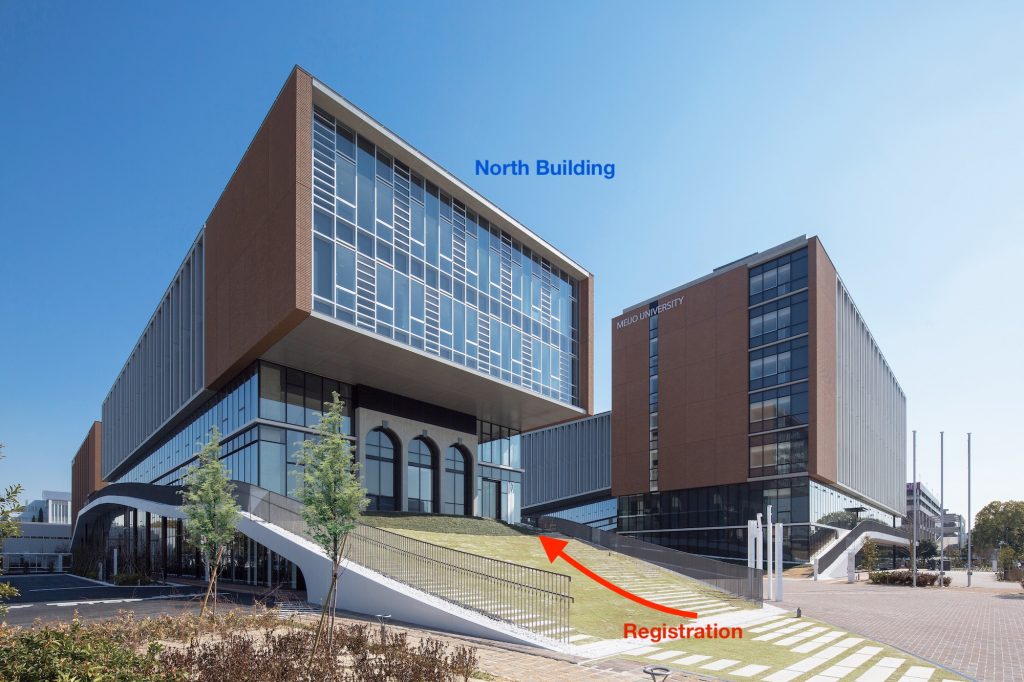 The North Building, where the entire conference will be held, is clearly visible from the main road.
Important venue information
Nagoya Dome Mae campus is a 100% no-smoking campus.
There is no car parking on campus.
This is a BYOD conference. There are no computers or CALL labs on campus for presenters or attendees. Projectors and HDMI/RGB cables will be available in all of the rooms, however, please bring your own computer or mobile device and an adapter to connect it to either the HDMI or RGB cable. See images at bottom for additional equipment information.
Walking from Nagoya Dome-Mae Yada Station
YouTube video of video of the walk:
Take Exit 2, and you'll find yourself outside a 7-11.
You need to get to the opposite corner to Hoshino Coffee Shop (星乃珈琲店)
– the Ukiyo-e face of Ishikawa Goemon is easily visible on the 2nd floor.
Then walk south away from the underpass past a tall apartment block and a fire station.
Meijo will be on your left after about 150m.
Walk straight up the sloping grass into the building with the distinctive overhanging 2nd floor.
Walking from Ozone Station
Ozone Station (JR Chuo Line, Meitetsu-Seto Line): Walk 10 minutes.
Essentially, walk east about 600m along the road with the raised tracks running down the center till you get to a big junction. Follow the above instructions from Nagoya Dome-mae Yada Station.
Maps
Meijo University,  Nagoya Dome-Mae Campus
Venue on Google Maps
TOURIST SITES
Interested in sites to see around Nagoya?
Venue images & information